Post by volkerboehme on May 1, 2011 2:38:00 GMT -5
Hi all,
there have been hints and rumors before, but by now, the project is advanced enough to announce it in public.
We are currently working on a Lockheed L-49 Constellation, the type that started it all. It is based on Manfred Jahn's excellent L-749, who supplied the original GMAX source files. He was also able to restore some GMAX source from late John Howard White's FsDzign L-49 and provided lots of generous help to solve some problems. Thanks a lot, Manfred!
Compared to the L-749 , major new features are:
- new engine cowlings
- new center pedestal
- new radio stack, modified panels
- 'eyebrow' windows on the cockpit roof
- custom flight dynamics and documentation
Here are some screenshots: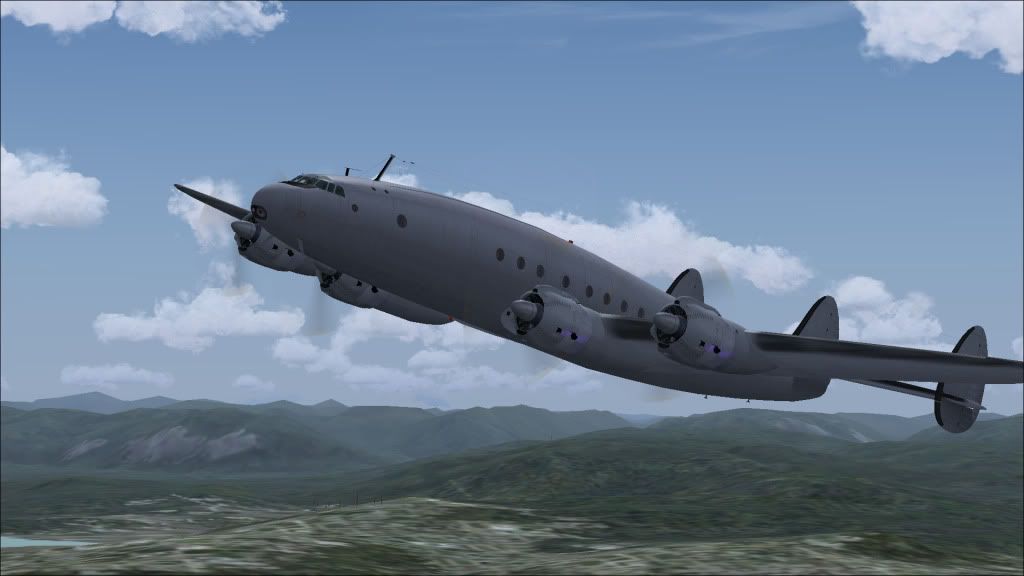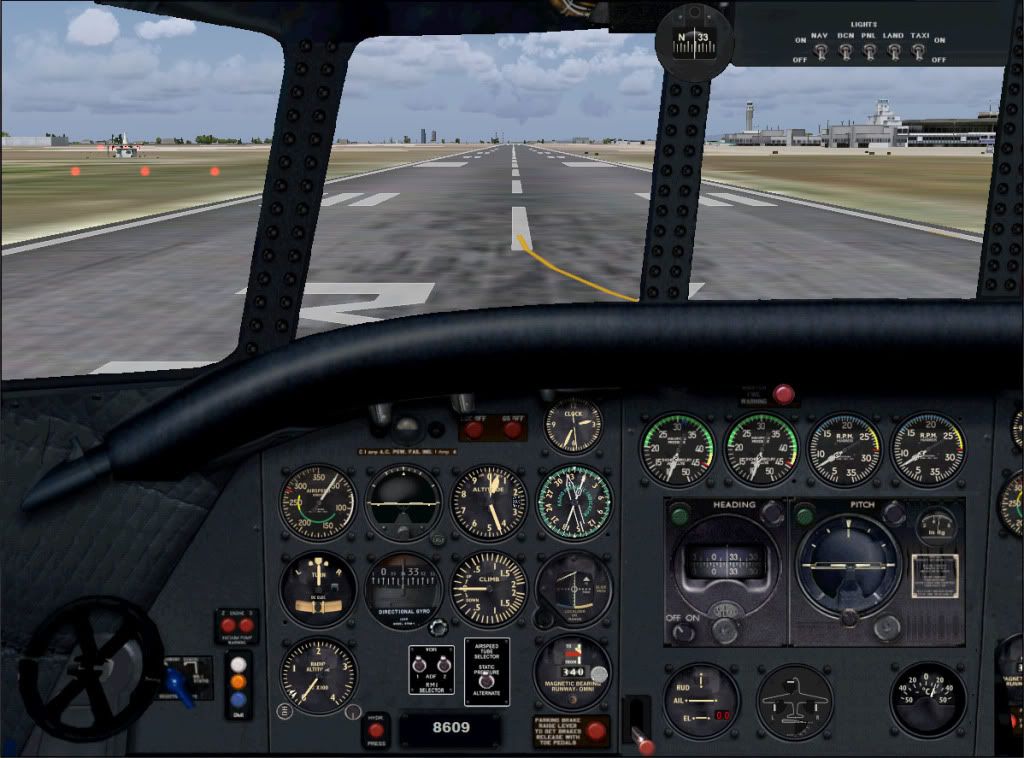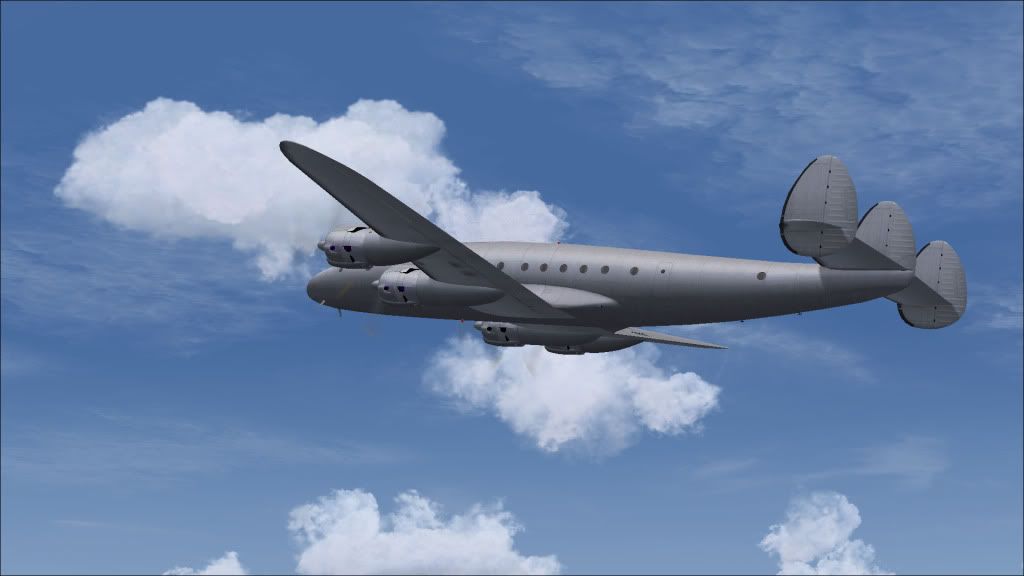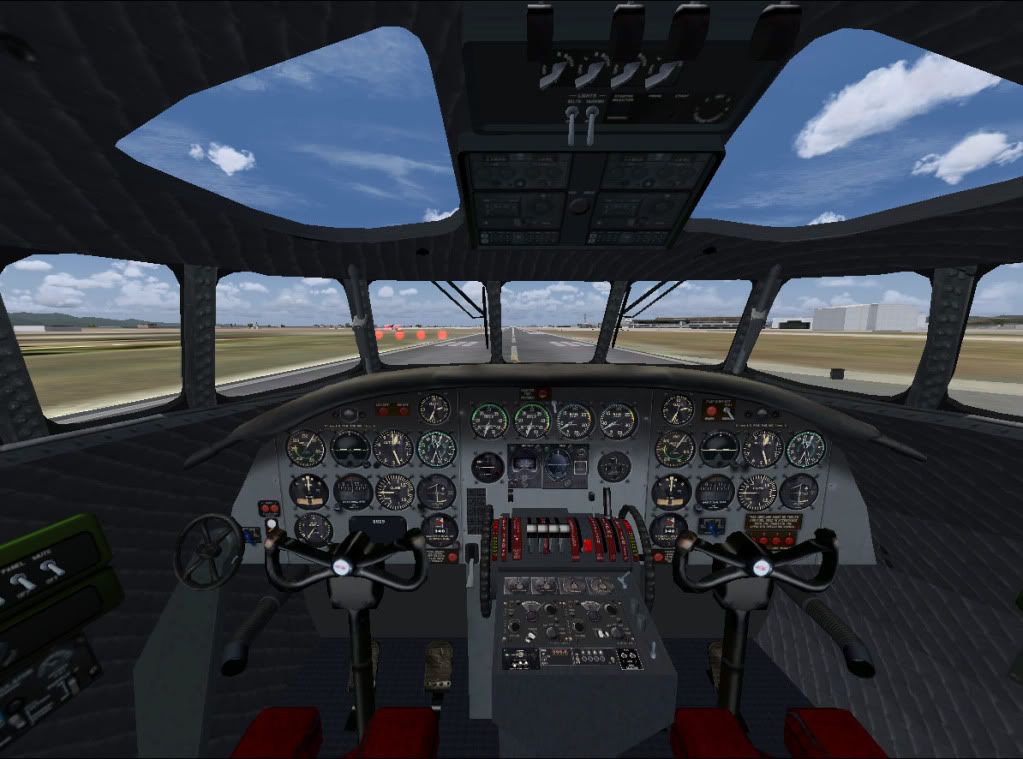 Here's an excerpt from the manual:
The introduction of IFR flight rules along controlled airways in 1934 meant a revolution in aviation. The new rules required new aircraft and Douglas was able to dominate this new market with the DC-2 and -3. Competitor Lockheed was offering smaller, high-performance aircraft and Howard Hughes used a Lockheed L-14 Super Electra for a record flight around the world, but in commercial service, the type was less economical than the DC-3 and therefore sold only in small numbers.
As the DC-3 was established as the standard US airliner, aircraft manufacturers began designing a new generation of four-engined airliners. Sponsored by several airlines, the first one was the Douglas DC-4 in 1938, but it turned out to be too expensive, too heavy and too complex, so Douglas had to start all over again. Boeing introduced the B-307 Stratoliner, a passenger version of the B-17 bomber. It was the first pressurized airliner, but only a few were introduced into service before the USA entered WWII.
In 1939, Lockheed was approached by TWA and Howard Hughes to secretly develop a new, advanced aircraft, which eventually would become the L-49 Constellation. It was to be powered with the new R-3350 engine, which then was still under development. The design had an aerodynamically optimized shape for high speed, a long range, a pressurized cabin and hydraulically boosted control surfaces as well as the triple fin that would become the Constellation's trademark. The first batch of aircraft was to be delivered exclusively to TWA, but eventually PAA and KLM were able to secure options of this batch as well.
However, when World War II broke out in Europe in September 1939, development and production of the new aircraft did not have highest priority any more. Eventually, the first flight took place on January 9th, 1943. Pilot was Eddie Allen, on loan from Boeing, because of his great experience with large, multi-engined aircraft. The flight was successful, but there were still many problems to solve, not unexpected for such an advanced aircraft.
One major source of problems was the R-3350 engine, which was still quite immature and suffered from many failures, including engine fires. One such fire eventually killed Eddie Allen, when it burned through the main wing spar of a B-29 he was flying. But the rest of the airframe had many other problems as well and production went ahead only very slowly. The similarly advanced B-29 suffered from similar problems, but the new bomber had top priority, while the demand for the L-49 was less urgent once production of the new DC-4/C-54 had started. Furthermore, demand for other Lockheed types, shifting priorities and the difficult production due to the complex shape delayed series production.
Eventually the L-49 entered service with the USAAF early in 1945, designated the C-69. In total, 16 aircraft were delivered to the military. The prototype was eventually fitted with R-2800 engines, but no production version followed this experiment. With the end of World War II, the USAAF sold off the remaining C-69's and did not use this designation again.
But regardless of all the problems that had come up, the Lockheed L-49 was further advanced than any other airliner then available. Practically all airliners were ex-military transport aircraft dating back to before World War II and none were pressurized for fast high-altitude flight. Lockheed bought back tooling as well as delivered and incomplete aircraft and converted the aircraft to true airliner standard, including more advanced fire detection and extinguishing equipment.
TWA and PAA still had the exclusive rights to the first batch and opened service on February 3rd, 1946 to New York - Bermuda (PAA), while TWA followed on February 6th on the New York – Paris route. As expected, it performed far better than any other airliner in service, including the DC-4. Two accidents caused the grounding and modification of the L-49 fleet during the summer of 1946, but the aircraft was back in the air before the competing DC-6 became available. The modification included new fuel injected BA-3 engines with two-speed superchargers instead of the previous single-speed carburetted BA-1, as well as changes to the supercharger drive shaft, the hydraulic system and again a modified fire extinguishing system.
The development of the L-49 Constellation did not stop here. During the production run, the aircraft progressively received strengthening of the airframe to allow higher operating weights. Post war aircraft, designated L-49A, were able to operate with a MTOW of 90,000 instead of 86,250 lbs. Further modification kits were available for even higher operating weights, with designations L-49B to E. While none were converted to B or C standard, roughly half of the aircraft were converted to D or E's. Aircraft so converted can be identified by the presence of external stiffening rails on top of the forward fuselage.
From the 63rd aircraft onwards, the aircraft had steerable nose wheel instead of the previous free-castoring one, and from serial number 2076 onwards the use of the speedpak external cargo pod was possible. TWA had at least some aircraft converted to allow prop reversing.
With the introduction of the long range L-749, it's outboard fuel tanks were also retrofitted to a dozen aircraft, which were designated L-149, but none were built as such. For comparison, here are the main differences between individual L-49 versions:
Type MTOW (lbs) MLW (lbs)
C-69 86'250 75'000 MTOW of 82,000-86',50 lbs and MLW 67,000-75',000 lbs, increasing during production run.
L- 49 86'250 75'000
L- 49A 90'000 77'800
L- 49B 93'000 77'800 none converted
L- 49C 93'000 83'000 none converted
L- 49D 96'000 83'000 34 converted
L- 49E 98'000 84'500 7 converted
L-149 100'000 83'000 12 converted
The L-49 was developed further into the next generation, the L-649 and -749 airliner, which used both newly available technology such as more powerful engines, as well as experiences with the L-49. From this time on, the L-49 was frequently called L-049, but both designations refer to the same aircraft. Lockheed claimed them to be 50% new developement, even though the external difference is minimal. The L-49 prototype was later used to develop the stretched L-1049 Super Constellation.
Main US customers of the L-49 were TWA (27 aircraft) and PAA (20), while further aircraft were sold to European customers, particularly BOAC (5), KLM (6) and Air France (4). Further aircraft were acquired by American Overseas Airlines (7), LAV (2) and Panagra (2), bringing the total to 73. Competitors were initially forced to use slower, unpressurized airlines, but when it became available, the DC-6 proved to be a capable and reliable alternative.
The L-49 was used as airliner through the 40's and '50's. Initially, they were used mainly on high-profile, long-range routes. As more advanced types became available, they were gradually replaced on the main lines and served secondary routes instead, replacing older, unpressurized aircraft instead.
However, hardly any L-49 remained in use when the airlines began replacing their propliners with jets. The L-49 were the first to go, only 1 of 88 remaining active in 1968, out of a total of about 250 Connies still flying by then. Those Connies remaining in commercial service were mostly the far more capable and reliable 749A's and 1049G/H's. The L-49's typicaly were in storage by the early 60's and scrapped by the end of the decade.
Today, 4 L-49 aircraft still exist, one of them originally a C-69. None of them is airworthy.
Note that it is still work in progress. There are still quite a few bugs to sort out and it will take a while until the project is completed. We will keep you up to date about the development.
Best regards,
The Constellation Team: Volker Böhme, Luis Pallas, Bill Tyne, Stefan Werner